Characters
Gallery
Episode Guide
Multimedia
The Movie
Getting The Look

Homepage
News Archive
Forums
Polls
Links
Email the webmaster

This page © Copyright Colin Hannah, 2001.
&nbsp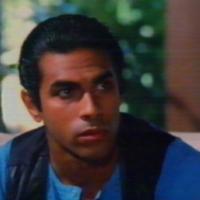 Frankie "Dishpan" Santana
Frankie became the fifth member of the team during season 5 at the request of General Stockwell. Santana was a special effects expert before he was caught up in the A-Team, but had to stay with the team after he was also outlawed.



---
About Eddie Velez
Here is some basic information about Eddie Velez who starred as Frankie Santana in the A-Team:

Born : 4th June 1958.
Place of Birth : New York City, USA.


Eddie Velez has starred in many films and TV shows, including a part in the drug enforcement movie, "Traffic":

-Traffic (2000) .... Agent Johnson
-Father's Choice, A (2000) (TV) .... Detective Cortez
-"Port Charles" (1997) TV Series .... Det. Alex Garcia (#2) (1999-)
-Running Woman (1998) - Reuben Alvarez
-Urban Justice (1997) - Ray Ramírez
-Most Wanted (1997) - Sergeant Peyton
-"Live Shot" (1995) TV Series - Ricardo Sandoval
-Passion to Kill, A (1994) - Morales
-Bitter Vengeance (1994) (TV) - Carver
-Body Bags (1993) (TV) - Player (Eye)
-From the Files of Joseph Wambaugh: A Jury of One (1992) (TV) - Tommy Alomar
-Danger Island (1992) (TV) - Vic
-"Drug Wars: The Camarena Story" (1990) (mini) TV Series - Ramon Varona
-Romero (1989) - Lieutenant Columa
-Rooftops (1989) - Lobo
-True Blue (1989/I) (TV)
-"True Blue" (1989/II) TV Series - Officer Frankie Avila
-Shannon's Deal (1989) (TV) - Chuy Vargas
-Split Decisions (1988) - Julian 'Snake' Pedroza
-"Trial and Error" (1988) TV Series - John Hernandez
-"The A-Team" (1986-1987) TV Series - Frankie Santana
-Women's Club, The (1987) - Carlos
-Extremities (1986) - Officer #1
-C.A.T. Squad (1986) (TV) - Carlos
-Doin' Time (1985) - Wetback
-Children of the Night (1985) (TV) - Tom
-"Charlie & Co." (1985) TV Series - Miguel Santana
-"Berrengers" (1985) TV Series - Julio Morales
-Repo Man (1984) - Napoleon "Napo" Rodriguez
-Summer Fantasy (1984) (TV) - Stratis
-For Love and Honor (1983) (TV) - Lucas