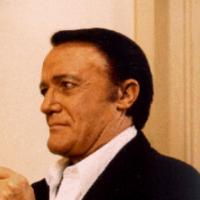 General Hunt Stockwell
General Stockwell appeared during season 5. In the opening episode he captured Hannibal and then made the A-Team work for him on several covert operations. If they had refused, Stockwell would have had them imprisoned.
Stockwell was a rather shady character to say the least. It was unclear which (if any) of America's governmental branches he worked for.



---
About Robert Vaughn
Robert Vaughn shot to fame in the much loved 1960's TV series The Man From U.N.C.LE. Here is some basic information about him:

Full Name : Robert Francis Vaughn
Born : 22nd November 1932.
Place of Birth : New York City, USA.
Spouses : Linda Staab (married in 1974)
Children : One son (Cassidy) and a daughter (Caitlin).


Robert Vaughn is famous for many TV and film roles, including that of the dynamic Napoleon Solo. He also starred in The Magnificent Seven (the film as well as the more recent TV series), Bullitt (starring Steve McQueen) and The Young Philadelphians. In 998 Vaughn recieved a star on The Hollywood Walk of Fame. His film and TV credits are given below (taken from The Internet Movie Database):

-Apocalypse IV: Judgement (2001) - J.T. Quincy
-Pootie Tang (2001) - Dick Lecter
-McCinsey's Island (1998) - Walter Denkins
-BASEketball (1998) - Baxter Cain
-Virtual Obsession (1998) (TV)- Adam Spring
-American Affair, An (1997) - Professor Michaels
-Anak ng bulkan (1997) - Baxter
-Milk and Money (1997) - Uncle Andre
-Motel Blue (1997) - Chief MacIntyre
-Sender, The (1997) - Fairfax
-Vulcan (1997) - Baxter
-Hullabaloo Vol. 8 (1996) (V) (archive footage) (uncredited) - Himself
-Menno's Mind (1996) - Senator Powell
-Visions (1996) - Agent Silvestri
-Joe's Apartment (1996) - Senator Dougherty
-Dancing in the Dark (1995) (TV) - Dennis Forbes
-Escape to Witch Mountain (1995) (TV) - Edward Bolt
-"As the World Turns" (1956) TV Series - Rick Hamlin (1995)
-Dust to Dust (1994) - Mayor
-W.S.H. (1994) (TV)
-Witch Academy (1993) - The Devil
-"Danger Theatre" (1993) TV Series - Host
-Blind Vision (1992) - Mr. X
-Lincoln (1992) (TV) (voice) - Isaac Arnold
-Tatort - Camerone (1992) (TV)
-"Tracks of Glory" (1991) (mini) TV Series - Mr. Morris
-Buried Alive (1990/I) - Doctor Gary
-Going Under (1990) - Wedgewood
-Transylvania Twist (1990) - Lord Byron Orlock
-Dark Avenger (1990) (TV) - Commissioner Peter Kinghorn
-Perry Mason: The Case of the Defiant Daughter (1990) (TV) - Jay Corelli
-Brutal Glory (1989) (V)
-C.H.U.D. II - Bud the Chud (1989) - Masters
-Nobody's Perfect (1989) - Dr. Duncan
-River of Death (1989) - Wolfgang Manteuffel
-That's Adequate (1989) - Adolf Hitler
-Captive Rage (1988) - Edward Delacorte
-Renegade (1988) - Lawson
-Hour of the Assassin (1987) - Merrick
-Killing Birds - uccelli assassini (1987)
-Nightstick (1987) (TV) - Ray Melton
-Skeleton Coast (1987) - Colonel Schneider
-Desperado (1987) (TV) - Sheriff Whaley
-Prince of Bel Air (1986) (TV) - Stanley Auerbach
-Delta Force, The (1986) - General Woodbridge
-Black Moon Rising (1986) - Ryland
-Murrow (1986) (TV) - President Franklin D. Roosevelt
-"A-Team, The" (1983) TV Series - General Hunt Stockwell (1986-1987)
-"Evergreen" (1985) (mini) TV Series - John Bradford
-International Airport (1985) (TV) - Captain Powell
-Private Sessions (1985) (TV)
-Last Bastion, The (1984) (TV) - General Douglas MacArthur
-Veliki transport (1983)
-"Emerald Point N.A.S." (1983) TV Series - Harlan Adams (1983-1984)
-Superman III (1983) - Ross Webster -Return of the Man from U.N.C.L.E., The (1983) (TV) - Napoleon Solo
-Intimate Agony (1983) (TV) - Dave Fairmont
-"Blue and the Gray, The" (1982) (mini) TV Series - Senator Reynolds
-Inside the Third Reich (1982) (TV) - Field Marshal Milch
-Question of Honor, A (1982) (TV) - Walker
-Day the Bubble Burst, The (1982) (TV) - Richard Whitney
-Fantasies (1982/I) (TV) - Girard
-S.O.B. (1981) - David Blackman
-Cuba Crossing (1980) - Hud
-Fukkatsu no hi (1980) - Barkley
-Hangar 18 (1980) - Gordon Cain
-Battle Beyond the Stars (1980) - Gelt
-City in Fear (1980) (TV) - Harrison Crawford III
-Doctor Franken (1980) (TV)
-Good Luck, Miss Wyckoff (1979) - Dr. Neal
-Gossip Columnist, The (1979) (TV) - Mark Case
-Hart to Hart (1979) (TV)
-Mirror, Mirror (1979) (TV) - Michael Jacoby
-Rebels, The (1979) (TV) - Seth McLean
-"Backstairs at the White House" (1979) (mini) TV Series - President Woodrow Wilson
-Brass Target (1978) - Colonel Donald Rogers
-Lucifer Complex, The (1978) - Glen Manning
-"Greatest Heroes of the Bible" (1978) (mini) TV Series
-"Centennial" (1978) (mini) TV Series - Morgan Wendell
-Islander, The (1978) (TV) - Senator Gerald Stratton
-Starship Invasions (1977) - Prof. Allan Duncan
-Demon Seed (1977) (voice) (uncredited) - Proteus IV
-"Washington: Behind Closed Doors" (1977) (mini) TV Series - Frank Flaherty
-Atraco en la jungla (1976)
-"Captains and the Kings" (1976) (mini) TV Series - Charles Desmond
-Kiss Me, Kill Me (1976) (TV) - Edward Fuller
-Columbo: Last Salute to the Commodore (1976) (TV) - Charles Clay
-Jeune fille libre le soir (1975) - Star
-Columbo: Troubled Waters (1975) (TV) - Hayden Danziger
-Man From Independence, The (1974)
-Towering Inferno, The (1974) - Senator Gary Parker
-"Protectors, The" (1972) TV Series - Harry Rule
-Woman Hunter, The (1972) (TV) - Jerry Hunter
-Clay Pigeon (1971) - Neilson
-Statue, The (1971) - Ray
-Julius Caesar (1970) - Casca
-Mind of Mr. Soames, The (1970) - Dr. Bergen
-* FDR (1969)
-Bridge at Remagen, The (1969) - Major Paul Kreuger
-If It's Tuesday, This Must Be Belgium (1969) - Photographer
-How to Steal the World (1968) - Napoleon Solo
-Bullitt (1968) - Walter Chalmers
-Helicopter Spies, The (1968) (TV) - Napoleon Solo
-Italy's In Season (1967) (uncredited) - Himself
-Venetian Affair, The (1967) - Bill Fenner
-Karate Killers, The (1967) - Napoleon Solo
-Spy in the Green Hat, The (1966) - Napoleon Solo
-One of Our Spies Is Missing (1966) - Napoleon Solo
-One Spy Too Many (1966) - Napoleon Solo
-Glass Bottom Boat, The (1966) (uncredited) - Napoleon Solo
-Spy with My Face, The (1965) - Napoleon Solo
-"Man from U.N.C.L.E., The" (1964) TV Series - Napoleon Solo
-To Trap a Spy (1964) - Napoleon Solo
-"Lieutenant, The" (1963) TV Series - Captain Ray Rambridge
-Caretakers, The (1963) - Jim Melford
-Boston Terrier, The (1962) (TV)
-Magnificent Seven, The (1960) - Lee
-Young Philadelphians, The (1959) - Chester Gwynn
-Good Day for a Hanging (1958) - Eddie 'The Kid'
-Teenage Cave Man (1958) - The Symbol Maker's Teenage Son
-Unwed Mother (1958)
-Hell's Crossroads (1957) - Bob Ford
-No Time to Be Young (1957) - Buddy Root
-Ten Commandments, The (1956) (uncredited) - Spearman


The following is a miny biography taken from a Robert Vaughn fan page (I've forgotten which one, sorry! - I'll try and link to it at some point): Robert Francis Vaughn was born on November 22, 1932, in New York City to show business parents. His father, Walter Vaughn, was a radio actor, and his mother, Marcella Gaudell Vaughn, a stage actress. They divorced when Vaughn was only six months old and he was sent to live with his maternal grandparents in Minnesota.

Vaughn had a troubled childhood and would probably have become a delinquent if he hadn't acquired his interest in acting. Fortunately, he was also a good student and athlete, and won a scholarship to attend the University of Minnesota. At 17, after the death of his stepfather and both grandparents within a year, he moved to to live with his mother in Los Angeles and continue his education at Los Angeles City College where he graduated with a degree in theater in 1956.

It was during this time he got his first break as an actor. After receiving rave reviews in a local stage production of End of a Man, he won small roles in several movies. But before he could capitalize on the opportunites, he was drafted and spent a year in the Army as a drill instructor.

Upon Vaughn's discharge, he continued his acting career. In 1960, he was nominated for an Oscar for his supporting role as a one-armed alcoholic in The Young Philadelphians, the same year he completed his master's degree. More movies followed, including The Magnificent Seven, and many television guest appearances. It was Vaughn's recurring role on The Lieutenant,a short-lived series about the peace-time Marine Corps co-produced by Norman Felton and Gene Roddenberry (who later went on to greater fame as the creator of Star Trek) that caught the attention of Felton and led him to be cast as U.N.C.L.E.'s chief enforcement agent, a role that would change his life.

Despite the grueling shooting schedule of a successful working actor, he continued his education, even during the heyday of U.N.C.L.E. He attended classes at night and eventually earned a Ph.D. in 1972 from the University of Southern California. His thesis on show business blacklisting has been published under the name Only Victims.

As a liberal Democrat, he was also heavily involved in politics during the run of U.N.C.L.E. On January 29, 1966, in Indianapolis at an FDR-JFK fund-raising dinner, Vaughn became the first member of his profession to publicly oppose United States military involvement in Vietnam. He continued to give many speeches during the period to further his cause and went on William Buckley's show, The Firing Line, to debate Buckley and other members of the Johnson administration.

After the series was canceled in 1968, Vaughn took a break from Hollywood and moved to Europe where he continued to act. In 1972, he joined the cast of The Protectors, a 30-minute U.K. action series produced by Gerry Anderson. Unfortunately, the show did not enjoy the same amount of success as The Man From U.N.C.L.E. though it did last two years.

Napoleon Solo is in a way a major departure from the characters Robert Vaughn usually plays on screen. Other than The Protectors and of course, The Man From U.N.C.L.E., he has rarely played the romantic lead type. In his pre-U.N.C.L.E. days, he was often cast as the heavy in his many television guest appearances. After the demise of U.N.C.L.E., one of his first roles was playing a glib and politically-motivated district attorney against Steve McQueen in Bullitt where Vaughn clearly demonstrated his ability to play a ruthless villain. Apparently, Hollywood producers has also noticed this. In later years, he has more or less been type-casted in such roles. For instance, in Superman III, a movie that also showcased his comedic talents, he played the evil tycoon in a suit who wanted to kill the Man of Steel.

Vaughn continues to be active in television and films. He was last seen on the big screens in BASEketball during the summer of 1998, playing, what else, but an evil tycoon in a suit. He also has a recurring role in The Magnificent Seven, the television remake of the screen classic he appeared in 1962, playing Judge Travis, a character that reminded some fans of what Solo might have been like in later years.

He now lives in Connecticut with his wife, Linda Staab, whom he married in 1974. They have a son, Cassidy, and a daughter, Caitlin.

On July 27, 1998, Vaughn received a well-deserved star on the Hollywood Walk of Fame. For sentimental reasons, he had requested his star to be located near the corner of Hollywood and Cherokee close to where he and his mother first lived when he moved to Hollywood.


Robert Vaughn has recieved the following awards during his long career:

1959 Academy Award nominee Best supporting actor - The Young Philadelphians
1968 BAFTA Award nominee Best supporting actor - Bullitt
1977 Emmy Award winner Outstanding continuing performance by a supporting actor in a drama series for Washington: Behind Closed Doors
1979 Emmy Award nominee Outstanding support actor in a limited series or special for Backstairs at the White House